Mentorship is important
Students often expect that finding a mentor is a simple matter of logging into a system to find the right match. However, in a campus as diverse and decentralized as SDSU, students may need to be resourceful, patient and persistent in finding a good mentor match.
Do you have an outstanding research, scholarship or creative activities mentor? Nominate them for a mentorship award!
Finding the right mentor
Keep the following tips in mind when considering other ways to find a faculty mentor.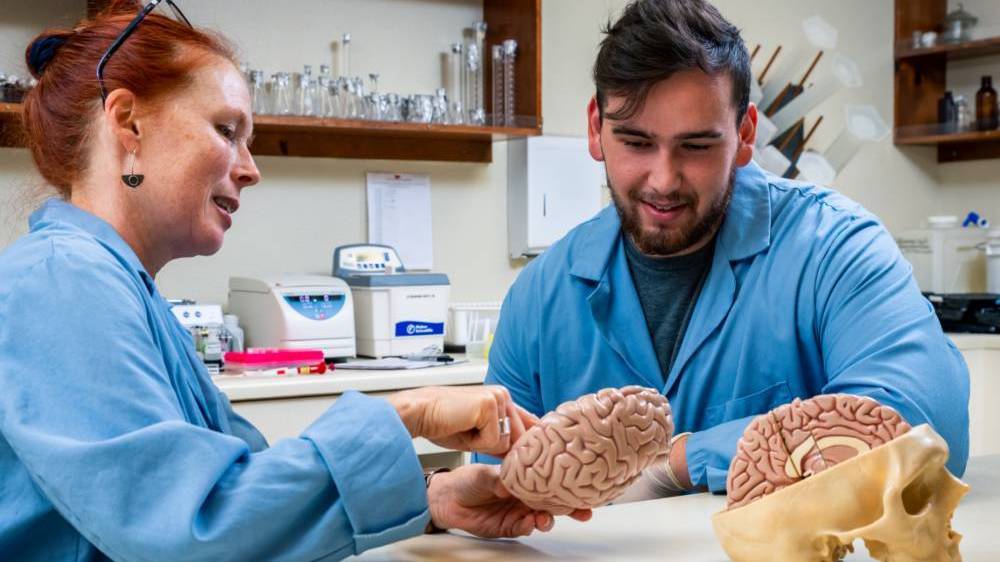 Search the faculty directory in your department. Most will describe the faculty member's interests. Identify some faculty with whom you'd like to work.
Are you taking a class from someone you really like/admire? Perhaps that person is a research-active faculty member here (but keep in mind some instructors are not engaged in research or creative activities).
Ask your department/major advising office if they know of faculty who mentor undergraduate students in research or creative activities. Some departments even have systems for matching undergraduates to opportunities, but understand that even those may not include all opportunities on campus.
Attend the SDSU Student Symposium (S3). Held every spring, S3 is a great way to learn about what is being done around campus. You can often talk with student presenters about their experiences to identify a faculty member who might be a good match for your interests
Check the SDSU Research Foundation for job postings - many are research related.
There are great programs available for underrepresented students.
If you are willing to live elsewhere during the summer, you can search for summer research opportunities at other universities. Some successful search terms include "research experiences for undergraduates," "REU," or "summer undergraduate research fellowship."
Do not be afraid to consider positions outside your major, if you're qualified for the experience. Learning how to work across disciplines is a highly-valued skill itself, so you will not be at a disadvantage in most fields by engaging in related but distinct research or creative activities. SDSU has a directory where you can search for certain topics of interest and learn which faculty may be involved in those topics.
Contacting Faculty
Sometimes a direct email to the faculty member works well. Briefly describe yourself (what year you are, maybe your GPA or your career goals or specific classes you've taken) and your interest in learning more about what the faculty member does. Be sure to write a good email - you can search "how to email a professor" for tips, but our friends at the University of California, Santa Cruz have some good tips to get you started.
Sometimes visiting office/student hours is a good way to get your foot in the door. You'd be surprised how few students take advantage of this opportunity. Showing up allows the faculty member to see your communication skills in action, and it demonstrates that you're interested enough to actually seek them out.
Another way to contact faculty member is through a student (upper-level undergraduate or graduate student) in their group. They might be in a position to either introduce you or ask about openings on your behalf.
Being Persistent
Some faculty are overwhelmed by the numbers of emails they receive, and they do not/cannot respond to all inquiries. This does not mean that you are not suitable for research or creative activity work.
You want to be gently persistent, not irritatingly so. If you want to follow up an email that didn't get a response, a good rule of thumb is to do so a week or two after the original (unless you get an "out of office" reply, and then wait a week after their stated return date).
You can also ask what skills you might be able to gain on your own that would make you able to contribute more quickly to their work. There are so many sources of information/training on the internet now that you might be able to take a workshop or class to gain valuable skills that can set you apart from the crowd.
Another approach is to email the same faculty member before the start of the next term (Spring, Summer, or Fall) and see what their needs are for the upcoming semester.