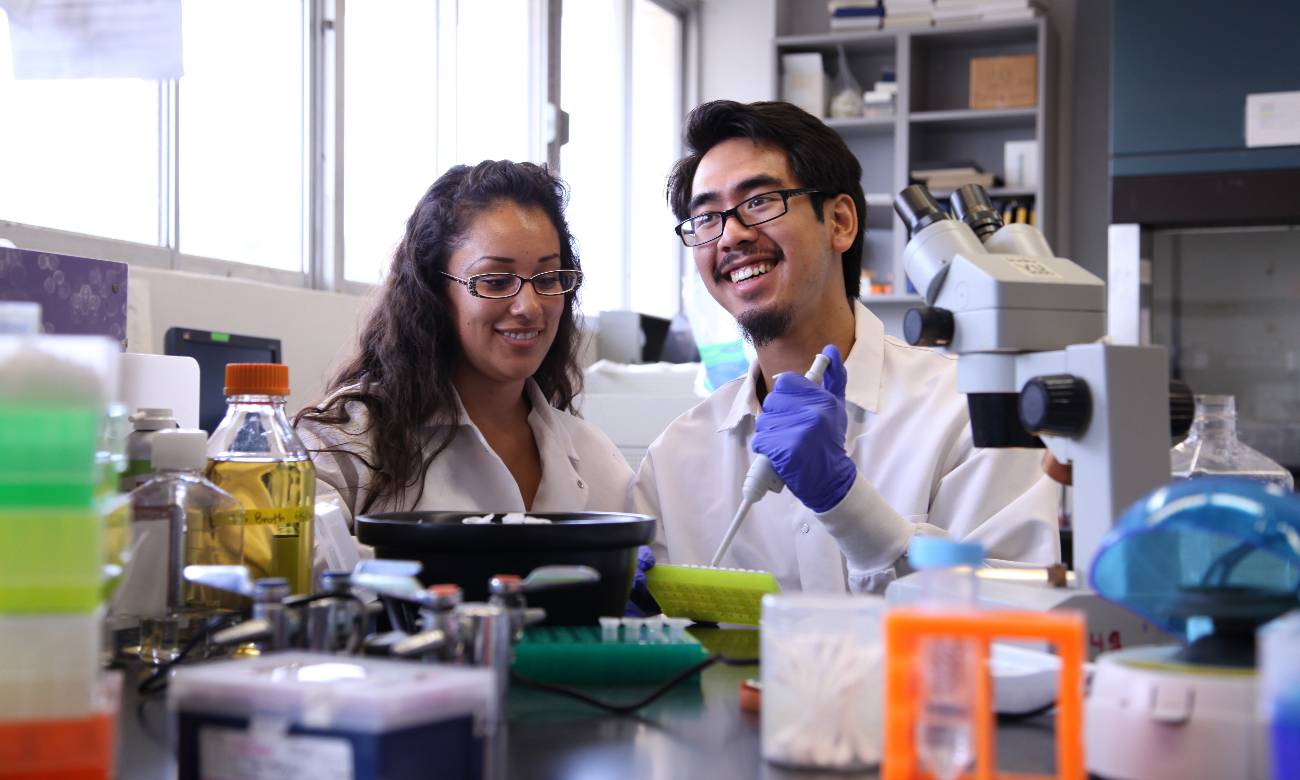 "RESEARCH IS TO SEE WHAT EVERYONE ELSE HAS SEEN AND THINK WHAT NOBODY ELSE HAS THOUGHT" - Albert Szent Gyorgi
Undergraduates play a vital role in the success of San Diego State University research and creative activities, and students benefit enormously from their participation.
An inquiry or investigation conducted by an undergraduate student that makes an original intellectual or creative contribution to the discipline.
Enhances student learning through mentoring relationships with faculty

Increases retention

Increases enrollment in graduate education and provides effective career preparation

Develops critical thinking, creativity, problem solving and intellectual independence

Develops an understanding of research methodology

Promotes an innovation-oriented culture (source)
A good place to start is to identify an area of interest and then find a mentor in that area.
Summer Student Research
Providing opportunities for students to participate in research is a priority at San Diego State University. Research opportunities help students discover which subjects interest them as scholars, allow students to gain the critical skills necessary to enter graduate school, and help underscore the real-life applications of classroom teachings.
Highlighted students

Chase Whittaker, Class of 2018
Chase majored in political science and public health. During his time as undergraduate he conducted research in Zambia and subsequently set up a nonprofit to benefit underserved communities there and elsewhere. Learn more about Chase.

Katelyn Sileo, Ph.D
Katy is a 2017-18 public health doctoral graduate who spent a year conducting dissertation research in Uganda, looking at HIV in fishing communities. She is now a postdoctoral fellow at Yale University. Learn more about Katy.

Elena Arroyo and Madison Kennedy, Class of 2018
Elena and Madison were both undergraduates who took STEM seriously (physics and chemistry, respectively) and spent much of their undergraduate careers in the research lab. They are now both matriculating into the doctoral program of biological physics, structure and design at the University of Washington, Seattle. Learn more about Elena and Madison.
Undergraduate Research in the News
Lessons from the Research Lab, from California to Costa Rica
This summer, several students are conducting research throughout North America and blogging about their experiences.

Summer Research a Transformative Experience for Undergrads
SDSU is funding roughly 70 students to conduct research with faculty mentors this summer. "I love research," said one student.

Combining Research, Instruction and Prizes is All the Buzz
A recent SDSU undergraduate's research into California mosquito viruses won the inaugural Microbial Metagenomics Discovery Challenge. .

Student Research Team Finds Meaning in Work
A group of undergraduates spent two years conducting research and found the experience altered their education and career paths.

STEM Diversity Programs Put Undergrads on Research Path for Research Success
Two-thirds of SDSU undergraduates who receive National Science Foundation Graduate Research Fellowships hail from two university programs aimed at increasing diversity in STEM research.